Carlos Tevez is not a player who is known for his loyalty. The Argentine's career is littered with transfer requests, court cases and morally questionable transfer deals, often instigated by his mysterious 'owner' Kia Joorabchian. But even by his standards, the striker's conduct at Manchester City has been nothing short of disgraceful.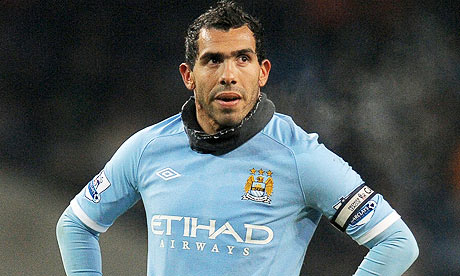 Carlos Tevez
To fully understand this whole sorry affair, we must cast our minds back to 27 September 2011, when Manchester City played Bavarian giants Bayern Munich at the Allianz Arena. With City 2-0 down in the 55th minute, manager Roberto Mancini asked Tevez to warm up in preparation for coming on as a substitute. Tevez refused, and his team duly lost the match. Mancini was incensed, declaring in his post-match interview that Tevez was "finished" at Man City and would "never play for the club again".
Tevez was immediately placed on "gardening leave", and would spend much of the next four months relaxing in Argentina, accumulating millions of pounds worth of fines in the process. He and his agent had hoped for a January transfer away from Manchester, but despite a plethora of potential suitors, a move didn't transpire.
The Argentinian forward returned to Manchester City earlier this month, and didn't do himself any favours when he insisted Mancini had treated him "like a dog". Despite all this, and despite Mancini's insistence that he'd never play for the club again, Tevez was welcomed back into the fold, and is likely to make his first appearance since September in the coming weeks.
If this whole saga has taught us anything, it's that Manchester City - despite their millions, despite their fantastic players, despite their wonderful football, and despite being top of the Premier League table - are still a small club.
Could you imagine a Manchester United player behaving the way Tevez has behaved, then being welcomed back with open arms? It would never happen. As we've seen in the past with the likes of Beckham and Keane: at Man United, no player is bigger than the club.. The players know this, and they know that if they get too big for their boots, they're out.
At Manchester City, it's a very different story. Most of the players are mercenaries, attracted to the club by money and money alone. They don't care about the club, and they don't respect it. As long as they're getting their millions, they're happy. They also know that the club doesn't have the self-confidence to hand out appropriate punishments, as the club needs them more than they need the club.
That's not to say this won't ever change. As we've seen with Chelsea, it is possible to buy big club status providing the club achieves prolonged success. But based on the evidence of the Tevez affair, it would appear Manchester City have a long way to go.